So recently I got nominated to do the Liebester Award by the lovely Sinéad from The Travel Bible. Today I am finally getting around to answering her questions.
If you are unsure of what the Liebester Award is I explain it in more detail in my last one which I will link here.
The Questions
1. What was the last photo you took on your phone?
Oh God this could be embarrassing, oh no its just a photo I took for my last blog post that never mad it to the final cut.
2. If you could be best friends with anyone in the world who would it be and why?
I feel like I should say some celebrity like Taylor Swift or Beyoncé. But I don't know any of them personally. To be honest I wouldn't trade my real life friends for any celebrity. Shout out to you Chummy!
3. What have you found most rewarding about being a blogger?
Oh wow that hard to just pick one thing.I think it has to be being able to make connections with different people from all over the world.
4. Who is your celebrity style icon?
I've thought about this for a while & I even did a quiz & got Alexa Chung haha. But I don't think we have the same style. After pondering for some more it hit me, Sarah Hyland! Everything she wears I want. I don't think her style is particularly girly or masculine she just seems to go wear whatever she was feeling that day, much like myself. Here are some of my favourite looks.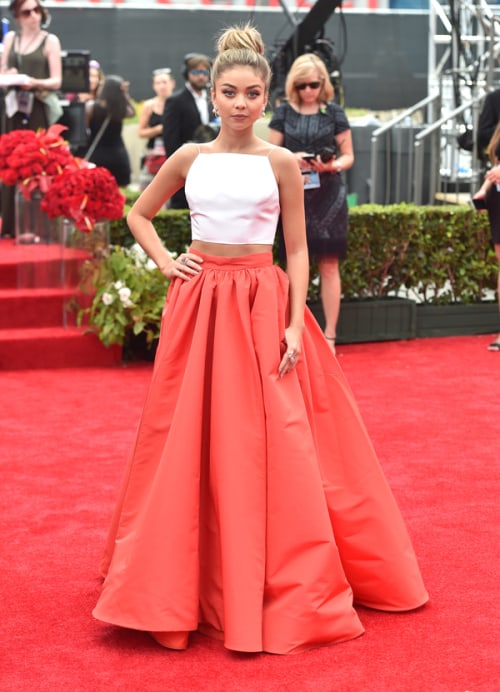 5. What was your favourite country you've been too? or your favourite holiday?
New York for definite I was 11 and lacked the knowledge of city life so you could imagine my face when I stumbled into Broadway. Seeing the Eiffel Tower someday might just top that feeling.
6. What's your favourite place to visit in your local area and why?
Shop Street & Quay Street in Galway City on a Saturday.If any of you have ever been, you will know exactly what I'm talking about.There are always musician busking & the streets are always so busy with tourists & locals.Overall its a very happy & atmospheric place to be & never fails to make me stop & smile.
7. What is your favourite music genre?
I listen to almost all kinds of music but the most frequent is probably indie. I love me some Coronas, Kodaline, Walking on Cars & Bastille.
8. Any weird habits?
I crack my knuckles but I think that's pretty common. I'm sure there is something but nothing spring to mind..
9. When you were little what did you want to be when you grew up?
Everything, a ballerina,a teacher, a fashion designer, a model, a singer.
The last few days I have been looking at every college in Ireland in an attempt to decide what it is I want to do in college. (very scary!)
10. Would you rather have lunch with Kim Kardashian or Barack Obama?
Barack Obama, could you imagine the fascinating things we could talk about. I'm sure Kim K would be good craic too, but I have to go with Obama for this one.
My Questions
1. What is something that made you very happy recently?
2. What is one thing you want to complete in the future?
3. If you could invite any 2 people to dinner who would it be & why?
4.What is you favourite chat-up line?
5. Something you are excited for?
6. Where do you see yourself in 3 years?
7. Favourite condiment?
8. Current Favourite song?
9. What's the compliment you receive the most?
10.Favourite blogs to read?
Cant wait to read your answers girls!
Thanks again to Sinead for the nomination, it was so nice of you & I had a lot of fun answering your questions! I have to get back to studying now but I will see you all very soon,
Love always,
Nixie xx